ModuleWorks, Sandvik Machining Join to Develop Prism for Touch-based CNC Programming
AACHEN, Germany, Dec 11, 2018 – ModuleWorks, the leading supplier of CAD/CAM software components for machining and simulation, and Sandvik Machining Solutions are collaborating on the development of the next generation of touch-based programming technology that enables users to quickly create and simulate CNC programs.
The new application is called Prism and is being developed by Applied Manufacturing Technologies, a division of Sandvik Machining Solutions. Applied Manufacturing Technologies is combining the deep manufacturing know-how of Sandvik Machining Solutions with the latest ModuleWorks toolpath generation and simulation technology to empower engineers and operators with the new shop floor programming concept that increases productivity and machine uptime.
As Anders Lindh, President of Applied Manufacturing Technologies at Sandvik Machining Solutions explains: "Prism opens a new era of smarter manufacturing by making the wealth of machining know-how available in an easy-to-use CNC programming environment. Working together with ModuleWorks enables us to combine this digital knowledge-base with the latest toolpath algorithms and simulation software to develop an integrated solution that truly modernizes the machining process."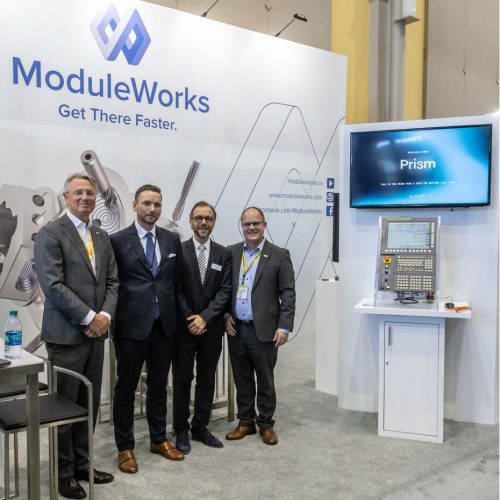 From L to R: Björn Rosengren (President and CEO of Sandvik AB); Anders Lindh (President of Applied Manufacturing Technologies at Sandvik Machining Solutions); Yavuz Murtezaoglu (Managing Director of ModuleWorks); Klas Forsstörm (President of the Sandvik Machining Solutions Business Area)
"As machining becomes more and more sophisticated, the industry needs intelligent solutions that assist engineers and operators as much as possible. Around half of the parts produced today are not programmed using CAD/CAM software but are instead programmed on the shop floor and we aim to simplify this process", says Yavuz Murtezaoglu, Managing Director of ModuleWorks. "We are very excited to work together with Applied Manufacturing Technologies at the forefront of this development and to see how our combined technologies are shaping the future of automated manufacturing."
For more information about Prism, see https://www.makewithprism.com/
About ModuleWorks 
ModuleWorks is the leading software component provider for the CAD/CAM industry. With over 170 employees and 700 man years of software development, ModuleWorks' expertise in toolpath creation and simulation is recognized throughout the industry and its software components are integrated with over 500,000 installed seats of CAD/CAM software around the world. From standard products to exclusive development projects, we work closely together with you to bring your own vision of Industry 4.0 to life. Our comprehensive product portfolio and cutting-edge software components enable you to optimize your CAD/CAM solutions and connect to CNC/MTB systems to increase your competitiveness and help you Get There Faster. For more information, visit https://www.moduleworks.com.
About Sandvik 
Sandvik is a high-tech and global engineering group offering products and services that enhance customer productivity, profitability and safety. We hold world-leading positions in selected areas – tools and tooling systems for metal cutting; equipment and tools, service and technical solutions for the mining and construction industries; products in advanced stainless steels and special alloys as well as products for industrial heating. In 2017, the Group had approximately 43,000 employees and sales of 91billion SEK in more than 150 countries within continuing operations. For more information, visit https://www.home.sandvik