ModuleWorks 3+2 Automated Roughing Technology Integrates into NTT's Space-E/CAM
AACHEN, Germany, Dec 4, 2020 - NTT Data Engineering Systems has integrated ModuleWorks automated 3+2 roughing cycles into its Space-E/CAM software. The ModuleWorks components enable Space-E/CAM to automatically calculate the optimal roughing toolpath to reduce setup and machining time.

Space-E/CAM with integrated 3+2 roughing technology from ModuleWorks
Integrated into the Space-E/CAM software, the ModuleWorks components automatically calculate the machining directions and create a collision-free 3+2 roughing toolpath, even for complex shapes with undercuts. This significantly accelerates job setup because Space-E/CAM operators no longer need to determine the machining direction by eye. The automatic indexing algorithms fully exploit the maximum reach of each tool to reduce the number of tool changes for each job, and because the toolpath areas do not overlap, there is no over-machining. The algorithms control the tool axis and encompass the entire machining area, which means they also generate safe and reliable toolpaths for 5-axis simultaneous roughing.
For finishing cycles, automatic 5-axis indexing allows NTT to use a shorter tool overhang which increases the quality of the machined part. The ModuleWorks algorithms can also be used with lens and barrel tools to bring further performance advantages, for example by using large stepovers.
As part of the integration project, NTT Data Engineering Systems and ModuleWorks worked together to test and optimize the automatic 3+2 roughing algorithms. During machining trials at the Okinawa Manufacturing Lab, the Space-E/CAM software with integrated ModuleWorks algorithms accelerated toolpath generation by 78% (compared to Space-E/CAM without the integrated ModuleWorks components).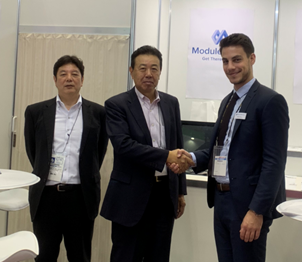 (From L to R: Masahiro Ajisaka, Manufacturing Solutions Division at NTT; Haruo Furukawa, Head of Manufacturing Solutions Division at NTT; Fabian Tarara, Senior Key Account Manager at ModuleWorks)
"It's great to see how our 3+2 automated roughing components help NTT take Space-E/CAM to the next level of development and improve machining efficiency, especially in the complex field of die and mold machining. Working closely together was the key because it enabled experts in different disciplines to analyze the process chain in detail and brainstorm solutions to get the most out of our combined technologies for every step, from the roughing to the finishing processes. We look forward to an ongoing successful cooperation and to continued developments in our solutions." Heiko Weber, Head of Digital Manufacturing at ModuleWorks.
"When indexing for 5-axis machining, the operator had to visually check the remaining stock in the simulation and manually set the machining direction in which the amount of cutting could be increased, relying on his/her experience and intuition. This was very time consuming for the operator to create the CAM data. To solve this, Space-E is now equipped the with ModuleWorks Automatic 3+2 roughing component, making it easy for anyone to create an efficient path in much less time. This enables customers to efficiently produce complex mold shapes using Space-E's automated 5-axis roughing feature. In cooperation with ModuleWorks, we will continue to innovate and contribute to the evolution of 5-axis machining by developing and providing value-adding solutions for our customers." Haruo Furukawa, Head of Manufacturing Solutions Division at NTT Data Engineering Systems.
About ModuleWorks
ModuleWorks is the leading software component provider for the digital manufacturing industry. With over 200 employees and 900 man years of software development, ModuleWorks' expertise in toolpath creation and simulation is recognized throughout the industry and its software components are already optimizing the performance and quality of over 500,000 installed seats of CAD/CAM and CNC software around the world. From standard products to exclusive development projects, ModuleWorks helps companies to bring their vision of Industry 4.0 to life. With its comprehensive portfolio of cutting-edge software components, ModuleWorks enables its customers to optimize their CAD/CAM solutions and connect to CNC/MTB systems to increase their competitiveness and help them Get There Faster. For more information, visit https://www.moduleworks.com.
About NTT Data Engineering Systems
NTT Data Engineering Systems was established in 1977 as a spin-off of the information systems division of Hitachi Zosen Corporation. It became a wholly owned subsidiary of NTT Data Corporation in 2006. Since its establishment, the company has manufactured and sold Japan's first 3D CAD/CAM system for dies and molds and is currently providing services using cloud technology. For more information, visit http://www.nttd-es.co.jp/en.