IRWare to Sell IGE+XAO's Electric Engineering Products in Indonesia, Malaysia, Singapore, Thailand
TOULOUSE, France, Aug 13, 2019 - IGE+XAO are pleased to announce the appointment of IRWARE PLT as a new distribution partner for Indonesia, Malaysia, Singapore and Thailand.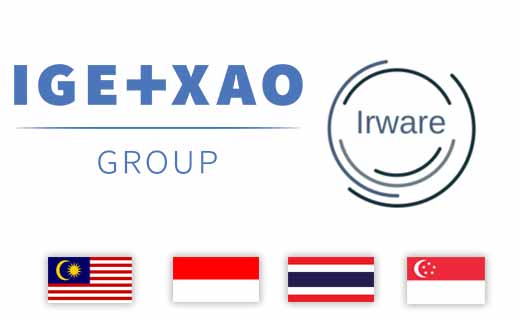 IRWARE PLT, a company based in Malaysia, is a new Value Added Reseller (VAR). The company is focused on marketing specialty electric engineering software products. IRWARE PLT aims to expand and set up regional offices in Thailand and Indonesia.
They can be reached at:
IRWARE PLT
Suite B-16-3, Tower B, Wisma Pantai
No.5 Jalan 4/83A off Jalan Pantai Baru
59200 Kuala Lumpur
Malaysia
www.irware.asia
About IGE+XAO Group
For over 32 years, the IGE+XAO Group has been a software publisher designing, producing, selling and supporting a range of Computer-Aided Design (CAD), Product Lifecycle Management (PLM) and Simulation software dedicated to Electrical Engineering. These software products have been designed to help companies in the design and maintenance of the electrical part of any type of installation. This type of CAD/PLM/Simulation is called "Electrical CAD/PLM/Simulation". Since mid-2014 with the takeover of Prosyst, IGE+XAO also offers a complete software range for electrical installation functional simulation. IGE+XAO employs 380 people around the world in 33 sites and in 22 countries and has more than 90,800 licenses distributed around the world. IGE+XAO is a reference in its field. For more information, visit http://www.ige-xao.com.