CCE Adopts 3D Printing for its In-House Kitchen Appliance, Quidli for Making Idlis
FARMINGTON HILLS, MI, USA, Jan 17, 2019 – CCE, a leading provider of mechanical & electro-mechanical design and related engineering services, has adopted 3D printing to create fully-functional prototypes of their new in-house designed product Quidli. After crossing several challenging milestones during the design phase of this new product development (NPD) initiative, the 3D printed prototypes were created to demonstrate functional viability of the product before investing in tooling for manufacturing at scale.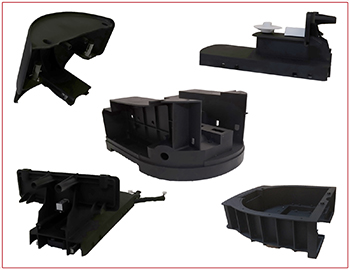 Quidli is a kitchen countertop appliance to automatically produce Idlis, a breakfast staple popular in South India. The product was conceptualized, designed and engineered by CCE and currently has successful 3D printed functional prototypes created to test for Form, Fit and Function
By testing for 'Form' the prototypes helped CCE's product design engineers validate the shape, size, dimensions, and weight of each & every component of the product.
The product 'Fit' was validated by assembling the 3D printed components to make sure they all worked together as designed.
By testing for 'Function', the CCE team was able to ensure that idlis produced by Quidli were of high quality and edible.
"Adopting 3D printing for functional prototyping helped our product designers get feedback in the early stages of NPD. This made product development far more efficient. Consequently, our engineers had more time to do what they love, perfect the product and delight our customers." says Vinay Wagle, CCE's V.P. of Sales and Marketing.
For more information on CCE's new product development (NPD) initiatives and other engineering services, visit http://www.cadcam-e.com/engineering-design-services.aspx.
About Quidli:
Quidli is a kitchen countertop appliance to automatically produce Idlis, a breakfast staple popular in South India. The appliance is 4 times faster, consumes a quarter of the energy and one-fifth of the water of the conventional cooking process.
About CCE
CCE is a Michigan corporation in business since 1989. Our offices are located in Farmington Hills, Michigan and Fort Lee, New Jersey, as well as a state-of-the-art engineering development center in Chennai, India. CCE's focus is on engineering product development, CAD interoperability and related services. The CCE group currently employs over 225 software and design professionals worldwide. For more information, visit www.cadcam-e.com.