Carlson Offers Select Suites, Choices for Customers to Select According to Their Needs
MAYSVILLE, KY, USA, Feb 19, 2019 - Recognizing that its customers in the land surveying, civil engineering, and construction fields have diverse needs, Carlson Software is now offering Select Suites. Customers can choose from two to all six software modules from Carlson's most popular programs: Survey, Civil, Hydrology, GIS, CADnet, and PointCloud Basic and configure them exactly to their needs.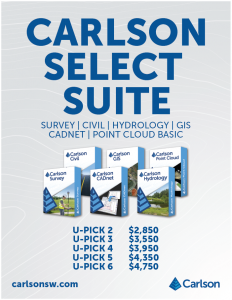 Carlson's long-standing suite choices – the Civil Suite featuring Survey, Civil, Hydrology, and GIS and the Takeoff Suite with CADnet, Trench, GeoTech, and Construction – are still available at the respective savings of $3950 and $7500. But now, customers can save and pick only what software they need with the Select-2 priced at $2850 and the Select-6 at just $4750.
"Carlson is continually working to meet the increasingly varied software needs of our customers as they expand or specialize," said Scott Griffin, director of Sales for Carlson Software. "We have developed a wide variety of software options to meet those needs. This program is to make it easier and more affordable for our clients to get exactly the features they need."
Here are brief descriptions of each of the six available modules:
Carlson Survey — Application software for land surveying that manages the complete job cycle from field data collection to drafting a final plan.
Carlson Civil — A complete civil engineering design software for surface modeling, roads/highways, site-design and a wide variety of land development projects.
Carlson Hydrology — Covers watershed analysis, flow calculations and drainage design including hydraulic structures and pipe networks.
Carlson GIS — Provides tools for geo-referenced images, data capture and linking, data labeling, import/export of SHP files, polygon topology creation and analysis, and supports working with Esri®.
Carlson CADnet — Allows users to create CAD from non-CAD documents such as PDFs, raster images, and paper plans, generate CAD text from raster images, and to import or export BIM models into CAD.
Carlson PointCloud Basic — Works with cloud data, whether from the drone, scanner or lidar, in the familiar Carlson environment to create points, break lines, surfaces and other CAD deliverables for the production of a typical plan.
For more information on Carlson products and this new purchasing option, visit www.carlsonsw.com or call Carlson at 606-564-5028 and ask to be connected to your local sales representative.
About Carlson Software Inc.
Founded in 1983, Carlson Software Inc. specializes in CAD design software, field data collection, laser measurement and machine control products for the civil engineering, surveying, GIS, construction, and mining industries worldwide, providing one-source technology solutions for the entire project cycle. Carlson Software is headquartered in Maysville, KY., U.S.A., with branch offices in Boston, MA; Almere, The Netherlands; Brisbane, Australia; Ottawa, Canada; and York, England. For more information, visit http://www.carlsonsw.com.